On Mondays, Ann Voskamp organizes links community, where bloggers count their blessings.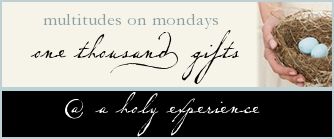 I've joined her in the wonderful experience of counting my blessings:
Part one (1 - 26, 21st February 2011)
2. our warm home during winter
4. my helpful sister and my sweet niece
5. living in a free country
6. unannounced visits (thanks, Moni!)
7. strangers who touch my soul within minutes
8. Ilaria waking up "singing"
12. friends calling just for asking "how are you?"
13. maternity leave (2 years, in Romania!)
16. meals cooked by somebody else
17. parents and grandparents alive
18. Ilaria's dirty clothes after playing outside (they are reminders that we have a healthy child)
19. advices coming from caring people
21. pictures that make me dream
23. Adrian caring after Ilaria as good as a mother
25. Ilaria's current looooong afternoon naps ( 3-5 hours! lucky me ;-) )
27. darling people who find time to address me nice words on this blog
28. birds singing early in the morning
29. Internet
30. white winters
31. people who share
32. pizza
33. Adrian entertaining Ilaria from the moment he enters the house's door
34. automatic washing machine
35. snowdrops
36.

Domenico Modugno

's music
37. water in pipes
38. elevator, which we use daily
Part tree (39 - 51, 30th May 2011)
39. on 23rd of February I was blessed for the 2nd time in my life to hold a positive pregnancy test
40. on 26th of February I have heard from my gynecologist that the embryo is well placed and: "look, there is cardiac activity"
41. around 05th of May I started to feel baby's movements
42. on 18th of May, after some days of self-induced stress, as I wasn't feeling baby moves, the gynecologist confirmed once again that everything is fine and that "it's a girl! 100% sure."
43. there, in the consulting room I heard Adrian saying "may SHE be healthy!", in the purest frustration-free voice, although he hoped for a boy for the 2nd time
44. echographs
45. Ilaria's tenderness, when I point out to my belly and I ask her to hug and kiss the little baby from inside
46.
the beautiful woman
that reminded me to pray when I am overwhelmed
47. the smell in my kitchen, when roasting eggplants for salad
48. daydreaming of a holiday
49. a new haircut
50. warm days of spring
51. friends who encourage me to make changes ( million thanks, Luminiţa! she's the girl behind my new haircut :-) )
Part four (52 - 57, 27th June 2011)
52. Adrian being responsible enough to consider vacuuming the floors and washing the dishes as his job
53. people on the streets finding time to smile and to address nice words to Ilaria. In general they are old people, probably grandparents. ("no matter how sad I am, when we meet, you make me smile and I forget my sorrow" said a woman once)
54. good pilots who bring us safe, back on the ground
55. mulberries
56. Ann Voskamp's book,

One thousand gifts

, which I read right now
57. my No.1 help in stains removing - Ace ;-)
Part five (58 - 68, 18th July 2011)
58. rainy days, when Ilaria enjoys every single slop that comes our way
59. blogs, which give me the opportunity to witness (right from my kitchen) other mothers' experience in rising a family
60. Ilaria sleeping over the night, non-stop
61. days when I am efficient and I feel I could move the mountains
62. cooking being more like a hobby than a chore for me
63. Ilaria being an easy learning child
64. cherries
65. hearing about friends expecting babies (congratulations and good luck with your pregnancy, Elena M.!)
66. Adrian taking care of our flowers
67. finding old friends again (Hello, Dionysia!!!)
68. the glue "Picatura", which helps me so much lately in restoring damaged ob

jects ( Ilaria knows the best what I mean here ;-) )
69. Maria, our 2nd daughter, born safe and healthy on 20th of October 2011, 13:18 o'clock, 4080gr. weight and 55cm height
70. Ilaria carefully observing Maria's ears and exclaiming: "Faine uiechi!" (Beautiful ears!)
71. Adrian giving up playing in a football championship, which ruined many of our week-ends in the past
72. our daughters' red cheeks after spending some time outdoor in the windy chilly winter air
75. being a child again - playing hide and seek with Ilaria
76. Maria laughing so hard that she starts hiccoughing

77. being a child again - building snowmen with Ilaria
79. Wednesday evening hours - girls night out
81. freesia smell in our house
82. tired Ilaria curling up on her bed for the afternoon nap and exclaiming: "Fain putuţ aie Iaia!" (Nice bed, Ilaria's!)
Part seven (83 - 102, 11th June 2012)
83. miracle in my family. My uncle survived a serious car accident, on 19th of March. On that day our hearts skipped lots of beats when we heard terms like: SMURD, cardiac arrest, deep coma, resuscitation, intensive care, traumatic brain injury, memory loss, multiple fracture, affected lung, internal hemorrhage. In less than 2 months from the accident he went back in the office!
84. Ilaria trying to calm Maria, by telling her: "Don't cry, Maria! Ilaria loves you."
85. I was feeding Ilaria with fish. After 2 bites she told me "this fish is not good". I ate it and in my 2nd bite I discovered 2 dangerous bones.
86. "Entire galaxies have been formed by His hand. A hand that looks like mine. A hand that reaches into my life, writes my name, knows my children." Wonderful words.

Cath

's.
87. sunny days when we can finally meet again the pure nature, after many weeks of rainy weather
88. my chickenpox (varicella) illness these days, with only 15 blisters!, which, for my age, is a little miracle
89. Ilaria answering back: "I love you too!"
90. rediscovering my old summer clothes after a long cold season
91. get back in shape after pregnancy (back to my normal weight - 65 kilos)
92. get rid of maternity clothes and rediscover the "normal" ones
93. Adrian's joy to meet the girls after few days work delegation out of town (and country. The Russian one.)
94. flowers bouquet ( with no reason ;-) )
95. reading a good book and realizing, once again, what a lucky girl I am and how easy I have everything (

Escape

)
96. cuddling Maria (she loves loves loves to be hugged and kissed)
97. Ilaria's current good night ritual, which works so well: story (always the same - "The big turnip") -> "Our Father" -> eyes shut and sleep.
98. Ilaria "protecting" Maria in park: touching Maria or even her stroller is strictly forbidden for any kid; when outside, nothing is more important for Ilaria than keeping away the "intruders".
100. Ilaria: "hipopopotam"
101. nicknames for Maria, invented by Ilaria: "Manina", "Mănită Nononită"
Part eight (103 - 117, 1st October 2012)
103. linden tree fragrance
104. the sound of Adrian's key in the door when he is back home from work
105. morning showers with my favourite shower gel now:
106. homemade olives and onion pizza
107. funny kids - Ilaria: "Why am I upset?", "Why do I like tea?", "Why did I cry?", "When Daddy will be a Mommy he will wear a bra too", "I'm as beautiful as a cow", "When I will be a cow I will wear a cow bell too", "When I will be a baby I will get a pacifier too"
108. sweet kids: after spending few days in Sighisoara at my parents without Adrian:
My Mom: "Ilaria, do you want me to tell you a story?"
Ilaria: "Yes!"
My Mom: "What about would you like it to be?"
Ilaria: "About Daddy."
109. our family, whole, as it is: with a Daddy, a Mommy ad kids. What a gift!! (I hope I won't ever take this for granted.)
110. Ilaria inventing new words: fucuiută and fucupată.
111. wrongly spelled words by Ilaria. I can hardly think about many anymore. She still says "puncături" instead of "cumpărături".
112. preparing in the morning the sandwich for Ilaria for kindergarten. I make her a surprise every day by wrapping it in a nice paper napkin
113. slow time, me and Maria home alone. She plays with her toys and from time to time she comes to me for some hugs then she turns back to her "business"
114. happy little souls around us. Ilaria helping Daddy to plant trees:
115. angel in our house
116. this pair of blue eyes fascinates me every day especially after the afternoon nap
117. happy little souls around us. Happy to see a tree cut down:
Part nine (118 - 144, 21st March 2014)
118. little kindness act: Adrian stopped the car, helped an old man climb off the icy hill and then went further on to his own business
119. Maria's happiness when I come back home after few hours shopping. She laughs and dances and rises her hands and she is simply delicious.
120. Ilaria laughing out of the blue. When I ask her the reason, she answers back: "Because I like you".
121. girls waiting for Daddy to be back from the office:
122. singing Christmas carols, all four of us, almost every Advent evening of 2013
123. the smell of Christmas tree
124. an evening talk that melted my heart:
Me: Ilaria, chiar nu ai dormit deloc azi la grădi?
Ilaria: nu, deloc
Me: şi ce ai facut între timp?
Ilaria: m-am uitat pe pereţi
Me: dar ai avut mult de stat aşa, tu Mami!
Ilaria: da, ştiu
Me: şi la ce te-ai gândit în tot timpul ăsta?
Ilaria: la tine
125. kind and real-looking Santa Claus that make our children believe
126. an evening to remember - singing Christmas carols and playing a new game with old and new friends:
( dear Moni, we are looking forward for your future visits ;-) )
127. Christmas morning
"
One of the most glorious messes in the world is the mess created in the living room on Christmas Day.
Don't clean it up too quickly.
"
(Andy Rooney)
128. smiling and acting like a real Snow Queen, even after 24 hours of stomach flu:
129. Maria - the sweetest girl ever!
Pin It