I continue the wonderful experience of counting my life's blessings, linking to Ann Voskamp's gratitude community: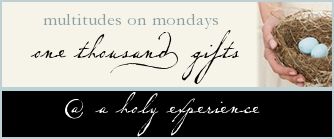 I am grateful also for:
39. on 23rd of February I was blessed for the 2nd time in my life to hold a positive pregnancy test
40. on 26th of February I have heard from my gynecologist that the embryo is well placed and: "look, there is cardiac activity"
41. around 05th of May I started to feel baby's movements
42. on 18th of May, after some days of self-induced stress, as I wasn't feeling baby moves, the gynecologist confirmed once again that everything is fine and that "it's a girl! 100% sure."
43. there, in the consulting room I heard Adrian saying "may SHE be healthy!", in the purest frustration-free voice, although he hoped for a boy for the 2nd time
44. echographs
45. Ilaria's tenderness, when I point out to my belly and I ask her to hug and kiss the little baby from inside
46.
the beautiful woman
that reminded me to pray when I am overwhelmed
47. the smell in my kitchen, when roasting eggplants for salad
48. daydreaming of a holiday
49. a new haircut
50. warm days of spring
51. friends who encourage me to make changes ( million thanks, Luminiţa! she's the girl behind my new haircut :-) )
Have a blessed week!
Raluca
P.S.:

My previous "One thousand gifts" post can be found

here

.
Pin It