I discovered recently a wonderful blog:
A Holy Experience
; and I read it for about a week already. It's... beautiful. A peaceful corner in our restless world. Full of wise words and gratefulness.
So far, I read only the 1st chapter, which she shares
here
. Reading it, I became even more grateful for my life, realizing one more time how blessed I am, but how, in different stages of my life, I forget to fully appreciate what I have, being too busy with wanting more...
On Mondays, Ann organizes links community, where bloggers count their blessings.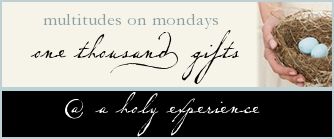 Here I join her for the 1st time, starting to count a part of the things in my life that I am grateful for:
2. our warm home during winter
4. my helpful sister and my sweet niece
5. living in a free country
6. unannounced visits (thanks, Moni!)
7. strangers who touch my soul within minutes
8. Ilaria waking up "singing"
12. friends calling just for asking "how are you?"
13. maternity leave (2 years, in Romania!)
16. meals cooked by somebody else
17. parents and grandparents alive
18. Ilaria's dirty clothes after playing outside (they are reminders that we have a healthy child)
19. advices coming from caring people
21. pictures that make me dream
23. Adrian caring after Ilaria as good as a mother
25. Ilaria's current looooong afternoon naps ( 3-5 hours! lucky me ;-) )
26. reaching destination after long trip on crowded driveways
Pin It