I continue the wonderful experience of counting my life's blessings, linking to Ann Voskamp's gratitude community: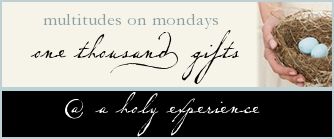 I am grateful also for:
27. darling people who find time to address me nice words on this blog
28. birds singing early in the morning
29. Internet
30. white winters
31. people who share
32. pizza
33. Adrian entertaining Ilaria from the moment he enters the house's door
34. automatic washing machine
35. snowdrops
36.

Domenico Modugno

's music
37. water in pipes
38. elevator, which we use daily
Have a blessed week!
Raluca
P.S.:
My previous "One thousand gifts" post can be found
here
.
Pin It