I continue the wonderful experience of counting my life's blessings, linking to Ann Voskamp's gratitude community: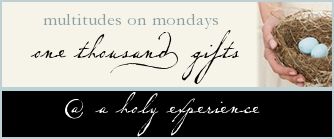 I am grateful also for:
52. Adrian being responsible enough to consider vacuuming the floors and washing the dishes as his job
53. people on the streets finding time to smile and to address nice words to Ilaria. In general they are old people, probably grandparents. ("no matter how sad I am, when we meet, you make me smile and I forget my sorrow" said a woman once)
54. good pilots who bring us safe, back on the ground
55. mulberries
56. Ann Voskamp's book, One thousand gifts, which I read right now
57. my No.1 help in stains removing - Ace ;-)
Have a blessed week!
Raluca
P.S.:

My previous "One thousand gifts" post can be found

here

.
Pin It